Coming Events!
This page includes activities and events around the country.
Send your Events to Events@VeteransPostNews.com
July 2013
01-30 Monsters
Who: MOSI
What: Sea Monsters Up Close & Personal
When: Thru July 30, 2013
Where: 4801 East Fowler Avenue Tampa FL 33617
Why: Entertainment, Education, Fun
Contact:
Email:
Website:
Addl Info:
27 Dedication Ceremony
Who: Korean War Veterans Association (KWVA Chapter 175),
Hillsborough County Veterans Council
Hillsborough County Govt
Veterans Museum & Parks Committee
What: Korean War Memorial
When: Saturday, July 27th, 1100 hrs
Where: Veterans Memorial Park, Tampa, FL
Why: To Honor Those Who Served
Contact: 813-653-4924 Walter Raysick or 813-962-3742 Ralph Hawkins
Email: wraysick@verizon.net rahawkins1@verizon.net
Website:
Please join us at the 60th Anniversary of the Korean War Armistice and Dedication Ceremony of the Korean War Memorial on Saturday, July 27, 2013 at 11:00AM at the Veterans Memorial Park and Rear Admiral LeRoy Collins, Jr., Veterans Museum. The Park is located at 3602 US Highway 301 N, Tampa, FL, just south of the Florida State Fairgrounds. The Master of Ceremonies will be Ralph Hawkins, President of the Korean War Veterans Association. The National Colors will be presented by the Joint Services Color Guard from USCENTCOM, MacDill AFB. National Anthems of the Unites States of America and Republic of Korea (South Korea) will be sung by the Tampa Bay Korean Woman's Chorus with Invocation by Capt Young Chang Ha, Chaplain Corps, USN, Retired. The Korean War Memorial Committee Chair, Eddie Ko will review the memorial installation. Keynote Speaker, Mr. Ken Hagan, Chair Hillsborough County Commission who will present a signed Proclamation from the Board of County Commissioners. A musical presentation sung by the Tampa Bay Korean Woman's Chorus followed by the POW/MIA Empty Chair Ceremony and Memorial Wreath Tribute will take place,. The Marine Corps League, Detachment 1226, Riverview will conduct a rifle salute and TAPS. Adjacent to the Korean War Memorial is the recently relocated 1stLT Baldomero Lopez, USMC, Medal of Honor Memorial. He received the Medal of Honor Posthumously during the Inchon Invasion of the Korean War in 1950.
Addl Info: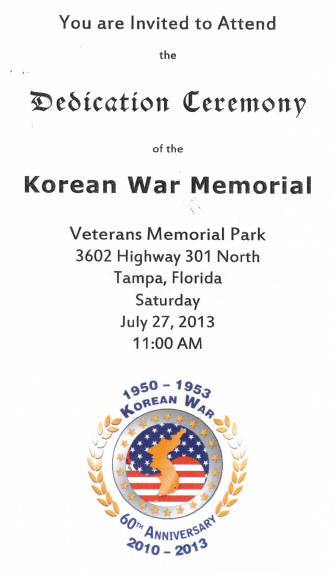 November 2013
11
Who:
What:
When:
Where:
Why:
Contact:
Email:
Website:
Addl Info:
March 2014
25 Medal Of Honor Day
Who: For those that know what true sacrifice is.
What: National Medal Of Honor Day
When: Every year starting 2007
Where: In the Hearts and Minds of those who served
Why: Instead of honoring the men and women of our Military Service,
they create a holiday and think this will suffice instead of the
Medical care we need. Instead of handling our claims quickly or
even allowing those deserving the dignity and respect earned.
Contact:
Email:
Website: Congressional Medal Of Honor Society; http://www.cmohs.org/
Addl Info:
30 Tour de Cure
Who: American Diabetes Association
What:
When: Sunday, March 30th, 0700 hrs
Where: Lakewood Ranch, FL
Why: To Ride With OR For Those With Diabetes
Contact:
Email:
Website:
Addl Info:
May 2014
01 Silver Star Day
Who:
What:
When:
Where:
Why:
Contact:
Email:
Website: Silver Star Families of America
Addl Info: Janie Orman, the organization's president, says; "We want 50 cities
across the United States to hold ceremonies and remember our honored wounded."
The tradition of the Silver Star banner for the wounded and ill goes back to 1917
and lasted for years until it faded into history. Silver Star Families of America
brought back this tradition so that every time someone sees a Silver Star banner
in a window or a Silver Star flag flying, they remember the sacrifice of wounded
service members.
19-21 Giant Garage Sale
Who: Veterans Village
What: Stuff you been looking for... Cheap!
When: Saturday & Sunday 0900 - 1500
Where: 2745 Second Avenue South, Saint Petersburg, FL 33712
Why: Because Veterans Should Always Help Veterans
Contact: Roy@VeteransPostNews.com OR Tom@VeteransPostNews.com
Email:
Website: www.VeteransPostNews.com
Addl Info: Computer monitors, Computer Desks, Office Desks, Chairs, Stoves,
LK/New In the Box 5,000 BTU A/C Units, American Flags, Shirts, Computer Video Cameras,
Tools, Water Heaters, Toys, Computer Printers, ... More than we can fill in here.
July 2014
11
Who:
What:
When:
Where:
Why:
Contact:
Email:
Website:
Addl Info:
00 P
Who:
What:
When:
Where:
Why:
Contact:
Email:
Website:
Addl Info:
This page was last updated 07/08/13